I realized I haven't updated you guys on the whole "My House Is Getting Sold" thing. We were stressing out because the whole thing was very unsure. Were we going to be able to stay in the house? Would we have to move?
After many showings and inspections, they finally found a buyer. And get this. They want us to stay in the house! WOOOOO! (*Cue the gospel music*)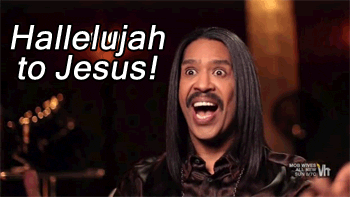 So now the real fun part starts. We've had so many appraisers and termite inspectors and landlords in our house over the past couple of weeks. And it's so annoying!! Mostly because we have to corral all of the dogs and get them out of the house while the people are there doing their thing.
THEN! The other day, I get a phone call from the appraiser who had come to our house last week to take a bunch of photos. Apparently her camera crapped out and she needed to come back to retake all of the photos. (Nooooooo) Luckily, she said I could just take the photos and email them to her. Which I GLADLY said yes to because we wouldn't have to arrange a day for her to come and deal with the dogs and all that craziness. So I took the photos.
I've never been more embarrassed of the state of our house. See, when she came by last week...we knew she was coming...so we cleaned our house and did it up real nice for it's photo shoot.
The other night? Our house was back to normal. And normal...ain't pretty.
We had dishes everywhere, dog hair on the floors, and makeup all over our bathroom counters. I felt so uneasy sending her these photos, but it had to be done. And honestly, I was WAY too tired to straighten up before I took them.
Ya know what, though? I don't really care. Our house is LIVED in. I will never understand those people whose houses look absolutely spotless and perfect all the time. It looks like a magazine home. Our house is a normal, everyday home. People live there. I will never have a perfect home. And that's ok.
(Oh and guess what? They're going to fumigate our house next week, so we get to stay in a hotel with 3 dogs for 2 nights. Good thing I like hotels....and hotel pools :-) )